Fasten, fit closely, bind together.
Wednesday, December 29, 2004
So Long Jerry...
For those of you who know, Law and Order is one of my favorite shows, and I would like to pay tribute to one of my favorite actors. Jerry Orbach, who played Lennie Briscoe on the original L&O, died this morning of prostate cancer. He survived his wife and his two children. He was 69.

I have spent countless hours watching L&O, enjoying every minute of it. Orbach's character Lennie was one of the main reasons for my enjoyment, and for the shows success overall. When he joined the cast in the third season, the shows popularity began to grow, and soon he was recognized by almost everyone in the country, especially in New York City. In 2002 he was declared a "living landmark" of New York City by the New York Landmark Conservancy.

His character was sometimes troubled, other times happy, and always a hard ass when it came to criminals and putting them away. He also managed to say the obvious wise crack whenever possible. After 10 seasons of being on L&O, he finally left it, to start another spinoff of the original, Law and Order: Trial by Jury. Alas, this show will probably never air. During those 10 seasons he helped portray a huge number of dramas about our criminal justice system. While a few were admittedly far-fetched, none were out of the realm of possibility, and some were based on true stories.

We true fans of the show are going to miss you Jerry. Rest in peace.

|
So You Wanna Know What's Really Hood??? Full Coverage, No Co-Pay WITH Dental, Dawg!
Camden, NJ
, home of NBAer DaJuan Wagner, was just named the most dangerous city in America. During the past year Camden has had 53 murders (including a toddler shot in the back of the head), 800 assaults, 750 robberies, and 10,000 arrests. All in a city of just 79,000 residents. And things are only getting worse. Many of the city's problems result from drugs, specifically heroin and crack. Higher quality narcotics and bigger city street gangs are moving in with innovative trafficking techniques.
So innovative in fact that they are "sophisticated enough to provide health benefits for their crack dealers."
[From
THE ONE & ONLY New York Times
]
That is deep right there. These are not your parents drug kingpins. This is some next level shyte. We're talking Drug Bosses who attend conferences at the
American Management Association
in Midtown.
UPS
doesn't even guarantee health benefits until 3 months on the job. As an unemployed college graduate who currently has zero health insurance I have to ask... Are they accepting resumes?
|
Monday, December 20, 2004
The Billiken Bluff's Nomination for Secretary of Defense
Pundits from both sides of the political spectrum are calling for
Donald Rumsfeld
to resign from his post as
Secretary of Defense
. Today Rumsfeld came under fire for yet another indiscretion. Rather than individually sign each of the letters of condolence sent to the families of the more than 1,200 soldiers killed in Iraq, Rumsfeld has had a machine affix his name to those letters.
Sen. Jack Reed
(D-R.I.), a West Point graduate, said Rumsfeld's failure to sign letters displayed
"his lack of leadership styles that are appropriate for the military."
But who should replace Rumsfeld? Who has the wherewithal to lead troops into battle? Who has a mastery of strategical positioning? And most importantly who displays those
'leadership styles'
so vital to the military?
The Bluff
has always strived to be a progressive-minded, forward-thinking, pseudo-journalistic, occasionally humorous weblog, so in keeping with that spirit The Bluff would like to nominate the
New England Patriot's head coach, Bill Belichick for Secretary of Defense.
Of course Belichick would not abandon his men in thick of the NFL playoff race, no true leader would. Rumsfeld should stay on until after the Iraqi Presidential elections (precariously) take place at the end of January, which quite conveniently coincides with the
Super Bowl
. Think of the P.R. coup for the Bush administration.
George W. Bush
, an avid football fan, can attend the Super Bowl and take the stage alongside Belichick during the post-game press conference. Smiles, handshakes, hugs, cameras flashing. Belichick leads the Patriots to their
3rd NFL championship in 4 years
, and announces while holding aloft
The Vince Lombardi trophy
that, yes, he will accept President Bush's nomination for Secretary of Defense.
Belichick is no cretin; he graduated cum laude with a B.S. in Economics from
Wesleyan
, no slouch of a school. He has always been regarded as one of the NFL's premier defensive strategists in the game. That reputation has been earned over a 25-year NFL coaching career that has included Super Bowl titles as the defensive architect of the
New York Giants
in 1986 and 1990 and a conference championship as the assistant head coach and defensive assistant for the Patriots in 1996. When he returned to the Patriots in 2000, he followed a sound architectural plan, fortifying the foundation of the roster with team-oriented free agents who would support his overall team philosophy.
The man simply gets results.
His team has won 2 out of the last 3 Super Bowls. They have compiled a record of 29 wins and only 3 losses over the past two years. Currently they are 12-1 heading into tonight's Monday Night Football match up against the Dolphins.
Belichick's players show unquestioned loyalty to their commander-in-chief. He has led them into unforgiving terrain (think January 2003 snowy AFC championship against the Raiders) and they have emerged victorious. He is prepared for every contingency. Belichick would not have left any room for 'miscalculations' while securing Iraq after our initial shocking and awing. All Belichick does is calculate.
"You go to war with the army you have, not the army you want,"
lamented Rumsfeld.
Belichick knows how to lead his troops into battle. He is a tactical master of both offensive and defensive strategy. He is a realist and with a nod to his predecessor, he understands that
you go to war with the army you have.
When
Ty Law
went down with injury, a lesser coach might have called Angie Harmon to see if
Jason Sehorn
knees still worked. Instead Belichick realized that a corner back is nothing more than a receiver who can't catch the ball. Thinking outside the proverbial box, Belichick switched
Troy Brown
, one of his trusted veteran wide receivers, and put him on the other side of the ball in the defensive secondary. Troy Brown has flourished in his new role, and now (with a receiver's sure hands) he leads the Patriots in interceptions. He's not only dealing with the army he went to war with, he's excelling with it.
We need this quality of improvisation in our top military brass.
Belichick realizes that you go about
getting the army you want
in the off-season. As I said he doesn't complain about or make excuses for key injuries during the war that is the NFL season. But immediately after the season is over he takes stock of his inventory of players. He analyzes the free agents available and prepares for April's NFL Draft. There is no off-season for Belichick.
He has been known to shun high price-tag veterans. The man is
no sentimentalist, no bleeding-heart liberal
(which as N. Dot pointed out is
jus' naat feasbul
when it comes to our nation's security interests). When Patriots veteran safety
Lawyer Milloy
demanded a costly contract extension, Belichick sent him packing to Buffalo. He is a fiscal realist. He knows that for every luxury-item Terrell Owens that you sign there will be that much less money to build the rest of the unit. He has worked with the stringent NFL salary cap for a quarter century.
Deficit spending isn't even in his playbook.
But when the right new technology presents itself, like say a
Corey Dillon
, he is not afraid to pay for it, but only if it fits within the framework of his over-all team philosophy.
So for example, if after analyzing countless hours of game footage, Belichick decided that a
Missile Defense Shield
was in the interest of our nation's security he would not hesitate to go out and get that Shield, but only after he shopped around for the best price and knocked a few billion off that price tag. And what would Belichick have to say if there was
an $85 million failed missile test launch
that occured under his watch? Well he would send the personnel responsible for the failure to some place a helluva lot colder than Buffalo.
And you better believe Belichick would have a thing or two to say about the need for proper armor for his soldiers. In Belichick's 25 years of coaching experience,
EVERY
single one of his players has been supplied with the proper accouterments. Every Belichick player has been equipped with a helmet, shoulder pads, jock strap, and mouth piece. He wouldn't lead his troops into battle any other way.
I realize that the position of Secretary of Defense requires a military background that some people may feel Belichick lacks. But the nomination of Belichick is not quite as outlandish as it may sound. George W. Bush had no direct experience with national politics when he was elected president in 2000.
Arnold Schwarzenegger
had no political experience whatsoever and is now governing the fifth largest economy in the world. Belichick has plenty of exposure on the national stage and has done nothing but win.
Think outside the box.
|
Just Putin it Out There
As the President begins the week urging the patience of the American public when it comes to bringing democracy to Iraq, it turns out Billiken Bluffers
the Got
and
A-Wood
aren't the only ones viewing the potential for elections in the region through a pair of Skepticals.
Our favorite shady ex-KGB world leader
Vladimir Putin
also had a little hatin' to do on the whole prospect, apprently seeing having an almost Singaporean concern for the undertaking's feasibility.
In fact, our boy
told the Prime Minister Iyad Allawi on Tuesday
that he could not see how can Iraq hold elections while the country was under "full occupation".
"I cannot imagine how elections can be organized in conditions of total occupation of the country by foreign troops," he said.
Pressed later that day by a Billken Bluff correspondent in an exclusive interview, Putin added that the reason for his skepticism was clear. "How on earth can we be expected to hold elections with foreign troops there trying to protect Iraqis from violence and assasinations?" he asked. "How can we be expected to poison the opposition under such circumstances!
It's Jus' Naat Feasable!!!"
|
Friday, December 17, 2004
Military Intelligence
WASHINGTON, Dec. 15 - An important test of the United States' fledgling missile defense system ended in failure early Wednesday as an interceptor rocket failed to launch on cue from the Marshall Islands, the Pentagon said.

After a rocket carrying a mock warhead as a target was launched from Kodiak, Alaska, the interceptor, which was intended to go aloft 16 minutes later and home in on the target 100 miles over the earth, automatically shut down because of "an unknown anomaly," according to the Missile Defense Agency of the Defense Department.
This is the headline from the
NY Times December 16, 2004
, not some Cold War newspaper clipping that I found in my attic (Hell, I don't even have an attic). This is not Reagan's Star Wars Program. We are really building a Missile Defense System. Right now.
I realize Putin is getting pretty rambunctious over in Russia. And I also realize that the day will come when China kicks Walmart out of Shanghai and we will be forced to invade the Orient. But surely that is decades down the line. See when I heard Bush talk about suring up our shores, tightening security at the borders, I was thinking more along the lines of agents at South Street Seaport and JFK. Can a Missile Defense Shield (I have to admit it sounds pretty snazzy) really be a top priority for this admisitration? Can they, with a straight face, talk about the War on Terror, protecting our children, and the need for a missile defense system in the same breath? Of course they can.
The missile defense program is to cost more than $50 billion over the next five years.
Wednesday's failed test alone had a budget of $85 million
. In fact, the Missile Defense Agency has spent $80 billion dollars since 1985, and the shield is still nowhere near operational. This has some in Washington questioning whether such a Shield is even possible.
I always like to do a little research of my own so I had my friend
Singapore
examine the proposed
Missile Defense Shield
.
He returned with this diagram-
And regretfully concluded that,
"It's jus' naat feasabul!!!!"
.
$85 million and they got an error message, probably not all that dissimilar from the one that I just saw pop-up on my desk top. I understand that $85 million just doesn't buy as much as it used to (with the plummeting Dollar and whatnot),
but how many bullet-proof Humvees and Kevlar vest could we supply our troops with for $85 million?
A couple at least.
I don't know, I'm sure a legitimate case can be made for having a missile defense system (I wouldn't make it, but then again you already knew that). But is now the right time to be testing this program? I'm not saying scrap the program entirely, but why not put the Missile Shield on the backburner for a bit.
$50 billion over 5 years
could mean a lot of things. It could mean a few more agents patrolling the Mexican border, it could mean a few new scanners at the airport, hell if you want to get all fiscally conservative it might even mean a larger tax cut. How about we hold off on the $100 million-a-day Midway Island tests until after the Iraq conflict.
Not even a week ago
Secretary of Defense Donald Rumsfeld
spoke to our troops in Kuwait (as close as he dared get to the front lines) and was questioned about the abominable lack of body armor US troops are equipped with. Forgetting all his blunders and rhetorical missteps for a moment, he said something relevant to the
Missile Defense Program
:
"You go to war with the army you have, not the army you want."
So my question for Rumsfeld, or better yet for his imminent replacement, is
what kind of army do you want?
|
Wednesday, December 15, 2004
Riddle Me This...
Why is
Rip Hamilton
still wearing this Vanilla Sky-style mask 7 months after breaking his nose?
|
The Newest Mr. Met
Pedro Martinez
is on his way to the
Mets
. Pedro is the most controversial figure in baseball not involved in the steroid scandal. This diminutive right-hander is a lightening rod for media scrutiny. In Boston he was loved, throughout the rest of the league, particularly in NY, he is reviled. Pedro receives more back page NY newspaper headlines than any other out of town athlete. Not only has he thrown at Derek Jeter's head half dozen times, but he matadored the 72-year old
Don Zimmer
during a fracas in the 2003 season. Despite all this Pedro is quite the pitcher, and has won 3 Cy Young awards. The much beleaguered Mets fans finally having something to cheer about.
But I'm not talking about Pedro, I'm talking about Pedro's pal, the lilliputian
Nelson De La Rosa
. Nelson slipped right under my radar while I was away. Apparently, Pedro first brought this good luck charm public during the Yanks/Sox October 2004 ALCS. And Nelson certainly provided the good luck as Boston completed the most improbable come back in professional sports history fighting back from 3 games behind to beat the Yankees in 7 games. Pedro swears by Nelson and carries him along nearly everywhere he goes.
Pedro:
"My friend is Nelson. His name is Nelson. He's 36 years old. He's from the Dominican Republic and very funny character, and very animated. Everybody's happy with him. He's our lucky charm now. Now a days. The guys are falling in love with him."
CBS-4's Dan Roche to Nelson:
"How do you feel about being the lucky charm of the Boston Red Sox?
Nelson:
"Se siente mejor"
Dan Roche to Pedro:
"What'd he say?"
Pedro:
"He say it feels better, to be the lucky charm."
Nelson is primed to take this town by storm. Think appearances on the
Howard Stern
Show (which is need of some new Wack Pack talent ever since the untimely death of Hank the Angry Dwarf). He is a shoe-in to land his own float during next summer's Dominican Day Parade. And I wouldn't be surprised if Pedro, no stranger to making outrageous requests from his employer, demands that Nelson serves as the Mets bat boy.
The circus is coming to Shea. If nothing else, this should be entertaining. And really what more can you ask for $54 million over 4 years?
Addendum-
Things just took a turn for the weird. While searching for pictures for this post, I found that Nelson De La Rosa is no stranger to the spotlight. He starred as
Marlon Brando
's influential sidekick,
Majai
, in the 1996 spectacle
The Island of Dr. Moreau
. No, seriously.
|
Thursday, December 09, 2004
The Sun is Bright, Snow is Cold, Rain is Wet...
And this just in from the
Secretary of Defense Donald Rumsfeld
a tank (or even a Humvee) can be blown up by a bomb!!!!!!!!
At a Q&A session in Kuwait Rumsfeld fielded questions from soldiers on the front lines. Many of them wanted to know why they have not been equipped with adequate body armor.
"Why don't we have those resources readily available to us?" Wilson asked Rumsfeld, drawing cheers and applause from many of the 2,300 soldiers assembled in a cavernous hangar here to meet the secretary.
A few minutes later, a soldier from the Idaho National Guard's 116th Armor Cavalry Brigade asked Rumsfeld what he and the Army were doing "to address shortages and antiquated equipment" that will affect National Guard soldiers heading to Iraq.
Rumsfeld, 72, seemed taken aback by the question and a murmur began spreading through the ranks before he silenced it. "Now, settle down, settle down," he said. "Hell, I'm an old man, it's early in the morning, and I'm gathering my thoughts here."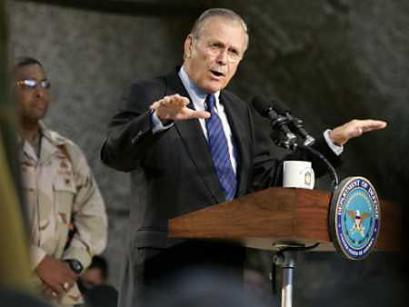 Moreover, he said, adding more armor to trucks and battle equipment doesn't make them impervious to enemy attack.
"If you think about it, you can have all the armor in the world on a tank and a tank can be blown up," he said. "And you can have an up-armored Humvee and it can be blown up."
[Via
The Chicago Tribune
]
|
Wednesday, December 08, 2004
The True Warrior
Eminem's albums stick to the script. The first single off an
Eminem LP
is always an over-the-top parody of politicians, musicians, and celebrities. The first single is light, catchy, and bubbly. Em wears many hats dressing as Marilyn Mansion, Osama Bin Laden and Michael Jackson, among others. The second single off a Slim Shady album usually tackles a serious issue, and has ominous beats to accompany it. His popular duet with Dido,
"Stan"
, dealt with over-zealous fans.
"Cleaning Out My Closet,"
off his last album aired the dirty laundry from his childhood, specifically his issues with his mother.
The
video
for
"Like Toy Soldiers",
the second single off Eminem's latest album
Encore
, debuted on Monday. By Tuesday it was
#1 on MTV's TRL
. The song features a children's chorus over military marching drumbeats. In the video Slim Shady is dressed in army fatigues, bandana, fatigue wristband (not army-issued I would imagine). This is a serious video. Eminem has his serious face on, literally. He pleads with the video viewer, he makes hand gestures, he points to his heart. He wants you to feel his pain. I first heard the song yesterday and I liked it. There are two extended verses. I got the basic gist of it during the first listen. He is documenting the beefs between his crew and the other brothas. Between him and Benzino. Him and the Source. 50 Cent and Ja Rule. Between Dr. Dre and Suge Knight. Etc.
I've heard all that before, nothing ground breaking. But there were a couple of lines towards the end of the song got me interested. Something about,
'We still have soldiers fighting on the front lines.'
I thought this might have been a nod to the
real
soldiers fighting in
Iraq
. Coupling this with the title of the song,
"Like Toy Soldiers"
and the lyrics of the chorus, and I thought Eminem was on to something. I thought that maybe he did some cleaning out of his own closet and saw that
battling the like of Ja Rule and Benzino
was petty shyte in comparison to the real wars being fought with real soldiers. That in comparison to the war in Iraq, his battles made him nothing more than a Toy Soldier, pretending.
But I forgot just how formulaic his albums are. Eminem is funny, ironic, not afraid to dress in drag for his first single. He parodies everything, even himself in a first single. But the second single he takes himself deadly serious, dog. There is no trace of irony in the second single. He is not cracking a smile, or winking at the audience. He is dressed in full-on army fatigues for this battle in the concrete jungle. I looked up the lyrics on
Ohhla.com
, check it out for yourself if you are so inclined. His wars are of the
106 & Park
variety. So when he raps,
'We still have soldiers fighting on the front lines.'
The 'front lines' he is referring to turn out to be nothing more than
The Vibe Awards
or
Club Speed
. Eminem isn't required to weigh in on global politics, or to write a song about the soldiers in Iraq. But if he isn't going to make a statement, then he shouldn't come up with such a potentially clever and ironic title for his song.
For some perspective on the hip hop world in relation to the world at large...
Mos Def's
"What's Beef?"
Yeah, beef is not what Ja said to 50
Beef is more than Irv not bein here with me
When a soldier ends his life with his own gun
Beef is tryin' to figure out what to tell his son
Beef is oil prices and geopolitics
Beef is Iraq, the West Bank, and Gaza Strip
Some beef is big and some beef is small
But what y'all call beef is not beef at all
Beef is real life happenin' everyday
And it's realer than them songs that you get at Kay Slay
|
Wednesday, December 01, 2004
Apocalypse Now?
Your average NY Times reader probably thinks that Mr. and Mrs. Middle American don't read, that if they do read it's Reader's Digest or a week old copy of USA Today. This simply is not the case. The Red States are reading voraciously, and one of the top-seller's in the Mid-West and South is the prolific
"Left Behind"
Series.
"Left Behind" is a series of 12 books released over the past 9 years by co-authors Tim LaHaye and Jerry B. Jenkins. The series enthusiastically depicts Jesus returning to Earth to slaughter everyone who is not a Born-Again Christian. Every Hindu, Muslim, Jew, Agnostic, and Catholic is killed in this Armageddon. The
Antichrist
turns out to be the
secretary-general of the United Nations.
The title of the Left Behind series suggests that the focus of these novels is not on those saved by Christ, but rather on the non-believers, the infidels (to use some fundamentalist jargon). This type of negative-Christianity that focuses on the punished brings to mind some of the issues that critics had with
Mel Gibson's
"The Passion of the Christ."
Both productions choose to ignore the fraternal, loving message of Christ, and instead dwell on the corporeal, the visceral images.
Some of the titles of the "Left Behind" books-
Tribulation Force: The Continuing Drama of Those Left Behind (Left Behind #2)
Soul Harvest: The World Takes Sides (Left Behind #4)
The Mark: The Beast Rules the World (Left Behind #8)
LaHaye and Jenkins aren't exactly practicing
The Golden Rule
, and "Loving their neighbor as thyself".
Fine it's fiction you say. I don't doubt that part of the appeal is the end of the world doomsday/sci-fi aspect to these books. I really enjoy films like
Independence Day
and reading books like
War of the Worlds
. But "Left Behind" goes beyond science fiction and feeds off of religious fervor. And a LOT of people are reading these books.
71 percent of the readers are from the South and Midwest, and just 6 percent from the Northeast. (Hence Tyndale's sponsorship of a NASCAR racer, with the unlucky logo LEFT BEHIND.) The "core buyer" is a 44-year-old born-again Christian woman, married with kids, living in the South. This isn't the "Sex and the City" crowd—which helps explain why it took so long for the media to notice that
one in eight Americans
was reading all these strange books about the end of the world.
[Via
MSNBC
]
God is phenomenally popular. These books are phenomenally popular and big business. So it's no surprise that the authors of these books which celebrate the painful dismembering and death of non-Christians have been questioned about their questionable message. LaHaye and Jenkins say that they are simply giving the Bible (or more specifically, selected passages from the Bible, namely The Book of Revelations) a literal read in the 21st century. They claim they can't mince words and won't apologize or water down God's message. Jenkins says:
"We can't read it some other way just because it sounds exclusivistic and not currently politically correct. That's our crucible, an offensive and divisive message in an age of plurality and tolerance."
Plurality and tolerance. What cockamamie ideas. LaHaye and Jenkins have company in another group of fundamentalists that has been known to give close readings to religious texts. A lot has been written about the
Koran
suggesting that there is no way around the fact that it is a violent, racist, and misogynist text.
Fundamentalist Christians like LaHaye and Jenkins aren't quite as radical as their Islamic counterparts. While the latter are working towards the downfall of Western Capitalist Civilization, the former are firmly entrenched in it. The
Left Behind website
sells every imaginable spin-off from the series, a plethora of products related to the End of Days. Left Behind children's books. A graphic novel. Left Behind Prophecies sent directly to your mobile phone each day. A Left Behind Trivia Game. A Prophecy Club ($6.50/month). Screen Savers. Messageboards. Chatrooms. And a special section labeled America in the End of Times: Four Possibilities. NBC's hit sitcom
Friends
didn't even license that many products.
LaHaye and Jenkins also conduct polls of their reading audience, maybe a bit of market research-
In a recent poll on leftbehind.com, we asked the question "Are you ready for Jesus to return?" Website polls are not statistically valid surveys, but they can be illuminating. Here's how the responses broke down:
-More than 50 percent of respondents said "I'm anxiously expecting his return."

-Nearly 3 in 10 either had unfinished business or didn't want to end their earthly good times just yet when they said "I hope he comes in my lifetime, but not yet."

-Under 2 in 10 said either "I need to get ready" or "I'm afraid I'll be left behind."

-Another small group, about 3 in 100, said "I know I'll be left behind, but I don't know what to do."
LaHaye and Jenkins make it quite clear that they expect that
The Second Coming
will occur during their lifetime. So if America's Born-Again Christians are assumed into Heaven, let's say sometime in the next 4 years, and the rest of us Americans are
Left Behind
, then… well it doesn't look like the Republicans will have that 4 million vote mandate in the 2008 election.
|