Fasten, fit closely, bind together.
Thursday, February 24, 2005
It's Ironic.. Don't You Think?
I'm 10 days late on this, but that doesn't make this story any less great.
Alan Keyes
, who last fall insisted that
Mary Cheney
(Vice President Dick Cheney's daughter) is a
"selfish hedonist"
by virtue of being a
lesbian
, has a lesbian daughter of his own.
Earlier this month
Maya Marcel-Keyes
, 19, spoke at a rally in Annapolis sponsored by
Equality Maryland
, the state's gay-advocacy group. Her new public profile coincided with being kicked out of her parents' Maryland home, as well as their refusal to provide financial support for her college education.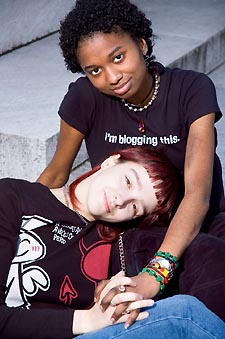 There is a God, and apparently He has a sense of humor.
|
MASACHUSTS
On Tuesday, I went on an interview for a potentially highly-lucrative sales position. They gave me the
Boiler Room Pitch
. Actually, the
21- year old
who interviewed me referenced the film
Boiler Room
during the interview. He said that atmosphere in the office was very much like
Boiler Room
, although he assured me that everything was on the
Up & Up
.
He asked me:
"How many 21-year olds do you know who own their own home?"
Me:
"None that I can think of."
He:
"Well I own my own home. Now you know ONE."
Basically, I got served and I was sold. I was a believer ready to pound the phones, to
Act As If
, and
Always Be Closing
; that is until I went on their website and read this:
"We are licensed in the following states:New York, Connecticut, Masachusts and Florida."
Now I never expected my B.A. in English & American Lit. to amount to much. Both during casual conversations and on professional interviews I backpedal, attempting to justify 4 years at
NYU
scouring through text and searching for
zeugmas
. I try to downplay my bookishness, and appear eager and willing to be a corporate salary man. But I simply could not condone that chop-shopped spelling of the great state of Massachusetts. My four years of higher education were not all for naught.
My sojourn at this Boiler Room lasted all of one day. Once again I'm back on the market, a free agent waiting to be signed by the right employer. I'll be posting a new-fangled resume here on Billiken sometime tomorrow. Prospective employers, be on the look out.
|
Monday, February 21, 2005
Hunter S. Thompson
Hunter S. Thompson
, author of
"Fear and Loathing in Las Vegas,"
and regular contributor to ESPN.com's
Page 2
died yesterday afternoon from
a self-inflicted gun shot wound
. It hardly seems strange to read such a sentence about a novelist. Ernest Hemmingway, Sylvia Plath, and Virginia Woolf. All great writers, and all committed suicide. The suicide is like the punctuation that you expect to find at the end of their obituary, and sadly, in the long run it probably adds to the author's allure. Writing is a dangerous business.
Thompson's final column featured
a terrific conversation with Bill Murray
.
|
Sunday, February 20, 2005
Oh That??? Don't Worry About It... It's just a 17-million Gallon Oil Spill
I was listening to WFAN's
Mike and the Mad Dog
on Friday.
Mike Francesa
brought an important story to The Bluff's attention and offered some insightful commentary to accompany it.
[Via
XTRAMSN
]
International Olympic Committee members visit New York next week to judge the city's bid for the 2012 Games but they're in for a surprise: In a creek next to the proposed Olympic Village is a half-century-old, 17-million gallon oil spill.

The festering brew -- half again as big as 1989's Exxon Valdez disaster, is an underground cesspool of gasoline, diesel and heating oil that seeps into Newtown Creek, a waterway that hugs Hunter's Point, where 16,000 athletes and coaches would live and train should New York win its bid to host the Olympics. The neighborhood in the city's borough of Queens is almost directly across the East River from midtown Manhattan.

The 13-member IOC Evaluation Committee arrives on Sunday on a fact-finding tour of proposed sites that Deputy Mayor Daniel Doctoroff, founder of NYC2012, the organization advocating the city's bid, described as critical to New York's chances.

New York is competing against Paris, London, Moscow and Madrid for the 2012 Olympics. The IOC decides in July.

The toxic state of the waterway is likely to come up, given the committee's assessment of the environmental impact of any bid.

"You have to smell it for yourself," said Teresa Toro, who lives two blocks from the polluted creek.

"The fumes are unbelievable," Toro said. She is one of the plaintiffs in a lawsuit filed last year against ExxonMobil Corp, the corporate descendant of John D. Rockefeller's Standard Oil, whose refineries lined Newtown Creek since 1875 along with other industrial firms.

Mobil, without admitting any fault for the spill, signed a consent agreement with the city Department of Environmental Protection in 1990 to begin a clean-up, which litigants charge has been inadequate.

Spur To Cleanup?

Environmental group Riverkeeper, another plaintiff in the suit, says dangerous vapors pose a health hazard.

"A boat trip up the creek is a journey into the heart of darkness, with the backdrop of the Manhattan skyline as a reminder of its real world locale," said Basil Seggos, Riverkeeper's chief litigator.




The Department of Health reports the area's asthma, emphysema and bronchitis rates are 25 percent higher than in the rest of the city.

Low levels of exposure to benzene, a component in gasoline, can cause memory loss and seizures, and high levels can cause cancer and death, the Environmental Protection Agency says.

"It's clearly an issue that we're well aware of," said Jay Kriegel, executive director of NYC2012. "It's an environmental situation that is being dealt with, but if we get the Olympics it would become a major priority and there would be an aggressive program to accelerate action."
============================================================
Francesa reacting to the story:
"What was the Olympic Commitee's second choice for the Village? On top of a nuclear reactor?!?!?"
[Francesa in his best Rockville Center-NY-Italian-accented twang.]
And Francesa commenting on Bloomberg's troubles with this oil spill and the delays with the proposed Westside stadium:
"What's happened to Bloomberg? It's like the last 12 passes he's thrown have been intercepted and returned for touchdowns."
But seriously though how ridiculous is this quote:
"It's clearly an issue that we're well aware of,"
said Jay Kriegel, executive director of NYC2012.
"It's an environmental situation that is being dealt with, but if we get the Olympics it would become a major priority and there would be an aggressive program to accelerate action."
What Kriegel is saying is that if NYC doesn't get the 2012 Olympic Bid, then the residents who live in this section of Queens can basically
FUGHEDABOUT
getting this "underground cesspool" cleaned up.
|
The Dillinger Escape Plan
"Sheffield requesting a more stringent steroid policy is like Dillinger endorsing the FDIC."

Mike Francesa reacting to Yankee outfielder (and BALCO client) Gary Sheffield's statement that Major League Baseball needs a stricter steroid policy.
|
iRobot Gets a Second Look from The NY Times
George Johnson (Week in Review) explores the merits of
an A.I Joe replacing G.I. Joe.
Networked Lethality!
|
Thursday, February 17, 2005
Teddy Bruschi
I don't normally get all sentimental and teary-eyed here on Billiken, but
Teddy Bruschi
suffered a partial stroke caused by a broken blood vessel in his head and had to be hospitalized. He is reported to
be in stable condition
. This really speaks to me for some reason.
I'm not a Patriots fan, but I am a football fan. I'm also a fan of anyone who brings a singular presence to their profession. Watching Bruschi turn himself into a human javelin in an attempt to fly over the Eagles offensive line and reach Donovan McNabb in the Super Bowl was something to behold. Watching Bruschi screaming at sideline reporter Sal Paolantonio in the snow after the Pats blitzkrieged the Colts… I didn't feel like I was watching a middle linebacker after football victory, I felt as if I was watching Mel Gibson fighting for his people's freedom in
Braveheart
(only Bruschi wasn't acting). Yea, and I know it's only sports, and maybe Bruschi shouldn't be lauded for taking a football game so seriously, but then again why shouldn't he? It's his job and he is passionate about it.
And it comes as no surprise to me that Bruschi did some serious damage to his body. This injury seems somehow symbolic. It's not like Bruschi twisted his ankle, or broke his arm in a collision. The blood vessel seems as if it broke after an accumulation of hard hits. It's almost the logical conclusion to the way he played the game. He's been a huge reason why the Pats have won three championships in the past four years, but he probably shouldn't play another game.
As they say, Teddy Bruschi left it all on the field.
|
The Assurance TripleTred Braid
Goodyear Tires
paid Detroit Pistons guard
Richard "Rip" Hamilton
to braid his hair in the style of the tread pattern of the company's
Assurance TripleTred Tire
. Of course Hamilton and his head are no strangers to
The Bluff
. I was in London while Rip was sporting this coiffure last week, luckily are resident Rip Hamilton expert,
Rico IV
, was on the ball.
Hamilton first wore the hairstyle January 30th against the Knicks in Detroit and kept it for about a week, Goodyear spokesman Ed Markey said Monday.
Neither Markey nor Josh Nochimson, Hamilton's business manager, would say how much Hamilton was paid.
However, the player also received free tires,
Markey said.
Nochimson said that he hopes the publicity stunt leads to an endorsement with the Akron, Ohio-based Goodyear. "I'd love to do something national," he said.
Hamilton even displayed the hairstyle to U.S. President
George W. Bush
, who hosted the Pistons at the White House on Monday in honor of their championship.
Goodyear said it picked the 26-year-old Hamilton for a variety of reasons, including his team's success and location in Detroit, which is the home to General Motors Corp. and other U.S. automaker. [Not to mention a head with as much surface area as Rip's is ideal because it provides an ample canvass for such an advertising campaign.]
Rip Hamilton's Hair & The TripleTred Design that inspired it.
|
Wednesday, February 16, 2005
This Week's Sign That the Apocalypse is Upon Us
Sports Illustrated
used to run a section where they featured a ridiculous quotation, or highlighted some improbable, yet true occurrence in the world of sports, or in the world at large. So in keeping with that spirit...
The US has contracted a firm named
iRobot
to develop robotic soldiers that will eventually take the place of human soldiers in combat missions.
A few things to consider while reading this
NY Times article
...
1. Does anyone at the Pentagon realize that the firm,
iRobot
, developing these robotic soldiers shares its name with this past summer's blockbuster film starring
Will Smith
in which, GASP*!%#!@!!!!, robots designed to make life easier went haywire and started killing humans. Does The Department of Defense have a Public Relations division? Does anyone in this PR wing find this coincidence problematic, uncouth, unwise, or at the very least
ironic
? Hmm..?????? Anyone??? Anyone!?!?!
2.
Do Androids Dream of Electric Sheep
, i.e., is
Phillip Dick
smiling somewhere, or is he rolling over in his grave? This is exactly what happened in Dick's short story called
Second Variety
. Robotic soldiers are developed to take the place of humans in combat missions. The robots turn out to be lethal killing machines, so lethal in fact, that they wipe out nearly all life on the planet. The last 10 humans remaining on earth are forced to scramble into a rocket and attempt an escape to the darkside of the moon. I'm tempted to do my patriotic duty and mail Donald Rumsfeld my copy of Dick's anthology.
3. Is
Donald Rumsfeld
the first prototype of the above mentioned robot? Something we might want to explore further.
4. Am I actually reading phrases like, "As the first lethal robots head for Iraq," in a newspaper? in the year 2005?
5. Or reading quotations like, "The lawyers tell me there are no prohibitions against robots making life-or-death decisions," said Mr. Johnson.
6. Or finally, "A prototype, about four feet high, with a Cyclops eye and a gun for a right arm, stood in a workshop at the center recently. It readied, aimed and fired at a Pepsi can, performing the basic tasks of hunting and killing."
This all a bit unreal.
The
article in today's NY Times
is rather lengthy article so here are some excerpts from it:
-"They don't get hungry," said Gordon Johnson of the Joint Forces Command at the Pentagon. "They're not afraid. They don't forget their orders. They don't care if the guy next to them has just been shot. Will they do a better job than humans? Yes."

-The Pentagon predicts that robots will be a major fighting force in the American military in less than a decade, hunting and killing enemies in combat. Robots are a crucial part of the Army's effort to rebuild itself as a 21st-century fighting force, and a $127 billion project called Future Combat Systems is the biggest military contract in American history. The costs of that transformation will help drive the Defense Department's budget up almost 20 percent, from a requested $419.3 billion for next year to $502.3 billion in 2010, excluding the costs of war.
And before you dismiss this as something that won't come to fruition in your lifetime;
the first generation of armed bomb-disposing robots will be sent to Baghdad this April.
-All these are in the works, but not yet in battle. Already, however, several hundred robots are digging up roadside bombs in Iraq, scouring caves in Afghanistan and serving as armed sentries at weapons depots. By April, an armed version of the bomb-disposal robot will be in Baghdad, capable of firing 1,000 rounds a minute. Though controlled by a soldier with a laptop, the robot will be the first thinking machine of its kind to take up a front-line infantry position, ready to kill enemies. -"The lawyers tell me there are no prohibitions against robots making life-or-death decisions," said Mr. Johnson, who leads robotics efforts at the Joint Forces Command research center in Suffolk, Va. "I have been asked what happens if the robot destroys a school bus rather than a tank parked nearby. We will not entrust a robot with that decision until we are confident they can make it."
Thankfully, not everyone is so sure that stocking our army full of robot soldiers is a good idea. Apparently,
Bill Joy
, co-founder of
Sun Microsystems
has seen a few science fiction films and remembers the equation:
Artificial Intelligence + Heavy Artillery = Bad News for Human Beings.
-Trusting robots with potentially lethal decision-making may require a leap of faith in technology not everyone is ready to make. Bill Joy, a co-founder of Sun Microsystems, has worried aloud that 21st-century robotics and nanotechnology may become "so powerful that they can spawn whole new classes of accidents and abuses."

-"As machines become more intelligent, people will let machines make more of their decisions for them," Mr. Joy wrote recently in Wired magazine. "Eventually a stage may be reached at which the decisions necessary to keep the system running will be so complex that human beings will be incapable of making them intelligently. At that stage, the machines will be in effective control."

-Mr. Everett and his colleagues are inventing military robots for future battles. The hardest thing of all, robot designers say, is to build a soldier that looks and acts human, like the "I, Robot" model imagined by Isaac Asimov and featured in the recent movie of the same name. Still, Mr. Everett's personal goal is to create "an android-like robot that can go out with a solider to do a lot of human-like tasks that soldiers are doing now."
-The technology still runs ahead of robot rules of engagement. "There is a lag between technology and doctrine," said Mr. Finkelstein of Robotic Technology, who has been in the military robotics field for 28 years. "If you could invade other countries bloodlessly, would this lead to a greater temptation to invade?"
|
Monday, February 14, 2005
The FBI... Keepin' It Fresh & Innovative
In an effort to sure up our Homeland's Security the
Federal Bureau of Investigation
has taken to running advertising spots on
Mike and the Mad Dog.
I was listening to WFAN this afternoon when I heard a
FBI recruiting
advertisement sandwiched between a commercial for a
Mets season ticket package
and
Bosley Men's Hair Restoration Surgery.
The FBI is need of Arabic language specialists, but there has to be better ways to recruit than advertising on a sports talk radio program.
I always had this picture of the FBI being a prestigious, secretive, highly-selective government agency. But it turns out the
FBI
is certainly no
CTU.
|
I Got Family in High Places Like Jesus' Niece
|
Friday, February 11, 2005
Around the Bend --- Another KFC!!!
Flying back from London on Wednesday night I watched
Around the Bend
(2004). The in-flight entertainment guide called it a "hidden gem". I was ready to agree with the review because the chronically underutilized
Christopher Walken
(always the bridesmaid, never the bride) stars in the film. Walken plays a criminal/drug addict returning home after walking out on his newborn son 30 years earlier. Walken comes back to visit his ailing father. Four generations of men from the Lair family reunited under one roof. The movie also stars
Michael Caine
, Josh Lucas, Glenne Headly, and
Kentucky Fried Chicken
.
Henry's (Caine) well-planned Last Will and Testament, written just before his demise at his favorite booth at the local KFC, instructs the Lair men to make a road trip. They must follow post-it directions Henry has placed inside several KFC bags. And must only read the directions while sitting down to a meal at a KFC franchise in whatever city they are in at the moment. After eating at a KFC they will dispose of a spoonful of his ashes.
As Caine dies in the booth Lucas runs in slow motion into the KFC (presumably it isn't the deep-fried chicken that led to his demise). The camera pans over to a KFC employee (employee-of-the-month if you ask me) consoling Lucas's son, who was there when Caine died.
At the first stop in this KFC road trip, Walken announces he is a vegetarian. However, by the 3rd KFC stop he is mowing down a chicken leg. By the 4th KFC they are looking over the menu,
what haven't we tried yet? The extra crispy?
They arrive at one KFC a few minutes after closing. Lucas (Walken's estranged son) suggests that they just read the instruction anyway. Walken says,
"that's not what Henry would have wanted!!! He wanted us to sit down together for a meal as a family, at the KFC!!!
Lucas is annoyed and yells,
"it's just a stupid fast food joint!!!
Walken (deadpan, eccentric as always) corrects him and says,
"KFC actually refers to their franchises as restaurants."
All of this sounds like it should be funny, a screwball comedy, something along the lines of
Harold and Kumar Go to White Castl
e – and yet it wasn't. It was supposed to be a heart-warming male-bonding movie. I've seen product placement in movies before, but never has it been so distracting, or so intertwined with the plot. I watched another movie on the flight
I, Robot
, which also had some product placement. The movie takes places in 2040 and Will Smith pulls out a pair of vintage Converse All Stars. Someone in the film comments on what a snazzy pair of sneakers they are. It's fairly obviously product placement, but it stops there. I wasn't distracted for the entire movie by the shoes.
Not to say that it didn't work in
Around the Bend
, I was fiending for a
KFC Twister
for the remainder of the flight.
|
See Ya Layta, Lynne
You know nothing puts a smile on NDot's face faster than hearing that left-wing extremist wackjob lawyer
Lynne Stewart
, convicted of helping her terrorist client pass on messages to his followers,
could end up in jail for about thirty years
.
30 years?
That shit is nervous son!
Now I dont know how quickly I would necessarily condemn Mr. Olajuwon for his shady donations mentioned by
the Got
below, but this woman - this fat, ugly woman - is someone who thought the bombing of the U.S.S. Cole
was worth a good chuckle or two
with her client
Sheikh Omar Abdel Rahman
, one of the guys convicted of the World Trade Center attacks (Part I) in 1993.
Well you're not laughing now, are you smiley? Score one for
John Ashcroft
!
Now I understand that some people might be inclined to feel sympathy for a 65 year old woman who claims she was "doing her job" in helping terrorists plan attacks, now that she won't be seeing the light of day until she is a sexy
98 years old
. But I think it's
hilarious
! Especially since she said this in a
recent interview
:
"I don't have
any problem
with Mao or Stalin or the Vietnamese leaders or certainly Fidel
locking up people they see as dangerous
. Because so often, dissidence has been used by the greater powers to undermine a
people's revolution
." (link via
NRO
)
Lynne, check out the news over the fast four years. While you were busy defending and aiding terrorists, the American people have been launching our own people's revolution against
the threat of worldwide terrorism
. And guess who a jury just named as a
dissident
?
Have fun in jail
biotch
! Maybe Fidel will send you some chocolate chip cookies.
|
Thursday, February 10, 2005
Had to Make Moves Like Olajuwon...
A mosque established and funded by former NBA star
Hakeem "The Dream" Olajuwon
gave more than $80,000 to charities the government later determined to be fronts for the terror groups
al-Qaeda
and
Hamas
.
The Olajuwon-founded Islamic Da'Wah Center in Houston gave more than $60,000 in 2000 and $20,000 in 2002 to the Islamic African Relief Agency, the center's tax records show. The government shut down the relief agency in October, saying it gave money and other support to Osama bin Laden and al-Qaida. But the agency and its possible ties to terrorism had been in news stories years earlier, before Olajuwon's contributions.
Olajuwon also participated in a 1999 celebrity bowling tournament for the Holy Land Foundation for Relief and Development, which the U.S. government shut down in 2001, accusing it of sending money to Hamas.
[Via
Newsday
]
|
Friday, February 04, 2005
You Can't Keep a Good People Down
Here's
a short video tribute to the Iraq elections, with some good pictures.
You can get the latest updates on the Iaq election results and news
here
.
And you can get excerpts from Iraqi blogs on the election
here.
|
Thursday, February 03, 2005
Remember that Debate John Kerry "Won"?
Let me refresh your memory. It was the first debate, when John Kerry said in his closing statement:
"
They can't have an election right now.
The president's not getting the job done."
Now the esteemed senator has been on Meet the Press warning Americans and the world not to ""overhype this election," and that fact that millions of Iraqis risked their loves to create history by participating in democracy.
Apparently someone forgot to translate Mr. Kerry's message to the Iraqis dancing in the streets in time to stop the outpouring of emotion shown by both Iraqis and the American people who support them.
I shudder when I think about how close (admittedly not
that
close at all) we came to trading the visionary we have in the White House for
that guy
.
|
Tuesday, February 01, 2005
Iraqis Vote, Liberals Implode
Democracy doesn't happen in one day. Certainly in Iraq one can see that the development of democratic principles and institutions will remain a long and difficult process for some time. Still, the cause of human freedom in the world could do worse than to see more days like Saturday, when Iraqis lined up under the threat of death to cast the first vote they had been afforded in 50 years.
Of course I wish I could say more about it and highlight some of the moving personal stories to come out of the event that you won't find in the
New York Times
- but alas, I ain't got the time at the moment. But although it may still take some time to assess the overall success of the day's election, one can begin to see how well things are going there by the reaction of those on the left, which has alternately been muted whining, silence, and for some democrats even excitement.
Ah, and even - is it possible - soul searching?
Liberal columnist
Mark Brown
had
this
to say to his fellow Anti-Bushocrats:
"After watching Sunday's election in Iraq and seeing the first clear sign that freedom really may mean something to the Iraqi people, you have to be asking yourself: What if it turns out Bush was right, and we were wrong?

It's hard to swallow, isn't it?"
What the??
Then, just as
John Stewart
made it to the 2nd place in the
NDot Top 5 People Who Need to Be Punched in the Face
list, he said this on the Daily Show last night to Fareed Zakaria:
"I've watched this thing unfold from the start and here's the great fear that I have: What if Bush, the president, ours, has been right about this all along? I feel like my world view will not sustain itself and I may, and again I don't know if I can physically do this, implode."
Well holy Jeez. I'm not going to hold my breath for most Anti-Bushocrats to backtrack on their visions of doom and gloom which NDot has tried to counter. But, just as a reminder, heres a sample of
what avid Anti-Bushocrat and Thuggery Correspondent A-Wood had to say about all this
on the HOT when all this was discussed in detail a few months ago:
NDot, I really hope you're right about Iraq. It would be great if there was a fair, free election and some progressive-minded intelligent Iraqi citizen is elected president. If that happens, I'd glady admit that I was wrong.
But looking at Iraq from my so-called "cynical worldview," I see a civil war about to break out. I see a chaotic mess that is years away from a free democratic election.
I would like to think that Stewart's and Brown's comments reflect that the Anti-Bushocrats are having an ever-so-slight change of heart. Have they been moved enough but what they saw happen In Iraq this weekend and the reaction it is getting in the Arab world that they are willing to look past their hatred of all things Dubya - just long enough - to recognize that the removal of Saddam and the initiation of the long road to democracy in its stead ain't exactly the horrible catastrophe they've been making it out to be?
Either way, if Jon Stewart actually implodes I promise to remove him from the NDot
Top 5 PWNTBPITF
list - or at least drop him down a few notches.
|