Fasten, fit closely, bind together.
Monday, January 22, 2007
I'm in it to win it!!!!
Okay... my sound drenches, each of the five senses
And hold the shock value of electrified fences
It's truth or consequences, ride wit us or against us
Is you a dedicated soldier, or you a princess, dog?
I'm in it to win it and not for the wealth
Got a crib with a Grammy and a gat on the shelf
Nan nigga competition, gotta battle myself
I watched
Prison Break
and
24
last night and was under/overwhelmed with melodrama and cliche and I can't turn away.
But after hearing Hillary throw her hat in the ring,
I'm in it to win it.
the clichés are endemic, tremendous.
Pandemic, ubiquitous.
She sounds like a game show host, a band leader, an MC, a bar mitzvah DJ, a carnival kiosk employee. Not a presidential candidate or maybe precisely a presidential candidate. Either way i'm nonplussed.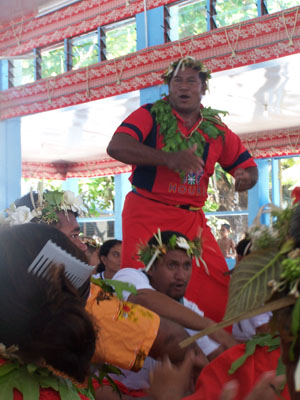 |
Wednesday, January 17, 2007
Barack Hussein Obama
On NPR tonight, One G.O.P. strategist, when asked about Barack Obama's chances to win the presidency in 2008 or even the Democratic party's nomination, referred to him as
Barack "Hussein" Obama
. I assumed this
"Hussein"
was in quotes and italics and that the strategist was insinuating that the American voting public would associate Obama with Osama by way of homonym, and lump him in with the Saddam Hussein by way of him sounding like a foreign other, brother.
But, fleshing it all out, which is bound to happen with greater scrutiny during a run at the commander in chief, Barack H. Obama will verily become
Barack Hussein Obama
. This is his full given name.
Obama is well-spoken, multi-racial, he embodies change, if not actually having ideas for policy change, although he did oppose the 2nd Iraq War from its conception. He would certainly energize the disenchanted just by taking up residence at 1600 Pennsylvania Ave.
One of
us
in power, or at least not one of
them
, again for the last 232 years later.
Something along the lines of:
Why is Bush acting like he trying to get Osama
Why don't we impeach him and elect Obama
But this fight will be about nomenclature, color(s), pedigree, perception and a game of Guesstures.
It sounds like....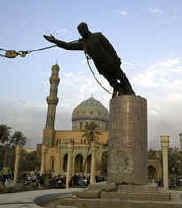 This election will expose American politics for what it really is. Prejudice, pre-conceived notions, public relations, and gut-feelings.
A name that will unite center city liberals. A name that is so laden with meaning that it requires no spin doctoring. You can't even spin it because it would be like taking advantage of a disabled person.
It is such an obvious impairment, that it's clear that it requires not a single iteration.
But who will vote for a disabled man that will alienate entire swaths of states?
Barack Hussein Obama is handicapped by birth, by birth certificate and this will be his undoing.
But this is important, we need this.
Who's coming with me?
|
Thursday, January 11, 2007
The First Salvo
Belligerence moves quickly.
ARBIL, Iraq, Jan 11 (Reuters) - U.S. forces stormed an Iranian consular office in the northern Iraqi Kurdish city of Arbil early on Thursday and arrested five people, including diplomats and staff, Iranian officials said.

The U.S. military made no direct mention of Iranians but in answer to a query issued a statement saying six "individuals" were arrested during "routine" operations in the area.

As the overnight raid was in progress, President George W. Bush was vowing in a keynote address on American television to disrupt what he called the "flow of support" from Iran and Syria for insurgent attacks on U.S. forces in Iraq.
|
Tuesday, January 09, 2007
The Shell Holes Have Been Plastered Over
US doesn't want Iraq to have all the fun.
This is a GLOBAL war on terrorism and we'll prove it.
All 7 continents. Lions and Tamil Tigers and Bay of Bengal, oh my. Indian Ocean, both sides, two coats, two fronts.
All this talk of
Black Hawk Down
, Mogadishu, the Islamic Court Union and
Sheikh Hassan Dahir Aweys
. And the US Army said wait a second Gotim, we'll call your
bluff
, we don't just drop bombs over baghdad.
What did that mean? nothing. But why is this not a big story today?
If something is slightly confusing we don't discuss. If there are competing offensives we only have so much energy and so much room in the
WORLD section of YahooNews
. There are sports and technology and entertainment. And didn't we stop talking about Somalia in the 6th grade? Didn't we take
yo mama
jokes out of
Snaps
that talked about
"well yo mama is so small she went hang gliding on a Dorito"
or
"yo mama is so skinny she, she, she's like a Somalian."
Well maybe that isn't exactly how it went down in grammar school but Somalia and it's war(lord) torn country was the butt of bloated stomach hunger jokes, don't forget I ran with a rugged crowd in 6th grade(forgive me
NYTimes, Jodi Kantor
, for reprinting, quoting racist statements that may be perceived as perpetuating stereotypes (yea - I listen to NPR and the Leonard Lopate Show and features on overt/covert racism in the search for quality nannies - yea)).
And today...
"the first U.S. offensives in the African country since 18 American soldiers were killed here in 1993."
US says...
"In Washington, a U.S. intelligence official said American forces killed five to 10 people in an attack on one target in southern Somalia believed to be associated with al-Qaida."
Somalia says...
"A Somali lawmaker said 31 civilians, including a newlywed couple, died in Tuesday's assault by two helicopters near Afmadow, a town in a forested area close to the Kenyan border."
We say...
Tonight N Dot and I discussed Apple's product debuts and it's
headline grabbing
(and 6 billion dollar stock increasing) announcement -
Steve Jobs changed their name from "Apple Computers" to "Apple Inc
".
Here is what the unearthing of a new paradigm looks like.
"Nobody can exactly explain what is going on inside these forested areas,"
said Somali commander Col. Shino Moalin Nur.
And you can capture it all on your new camera, video, mp3, email blackberry, planner phone.
|